ECFD workshop, 5th edition, 2022
From Extreme CFD workshop
Description
Event from 23th to 28th of January 2022
Location: Centre Bonséjour, Merville-Franceville, near Caen (14)
Two types of sessions:

common technical presentations: roadmaps, specific points.
mini-workshops. Potential workshops are listed below.

Free of charge
More than 50 participants from academics (CERFACS, CORIA, IMAG, LEGI, EM2C, UMONS, UVM, VUB, UCL, TUDelft), HPC center/experts (GENCI, AMD, CINES, CRIANN) and industry (Safran, Ariane Group, Siemens-Gamesa).
Objectives

Bring together experts in high-performance computing, applied mathematics and multi-physics CFDs
Identify the technological barriers of exaflopic CFD via numerical experiments
Identify industrial needs and challenges in high-performance computing
Propose action plans to add to the development roadmaps of the CFD codes
News
03/11/2021: First announcement of the 5th Extreme CFD Workshop & Hackathon !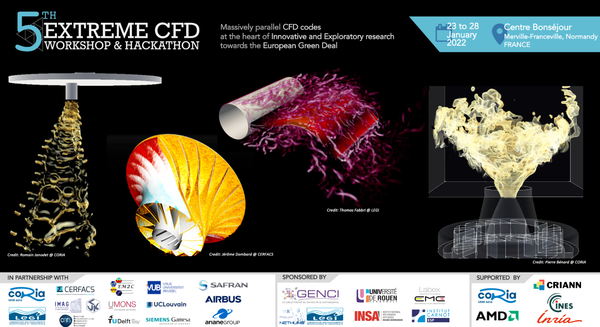 13/01/2022: After discussions with the participants, the 5th Extreme CFD Workshop & Hackathon is maintained as an in-person event! It will be also possible to attend to the plenary sessions and participate remotely to the workshop.
14/01/2022: The ECFD5 program is online! The plenary sessions will be announced soon!
Agenda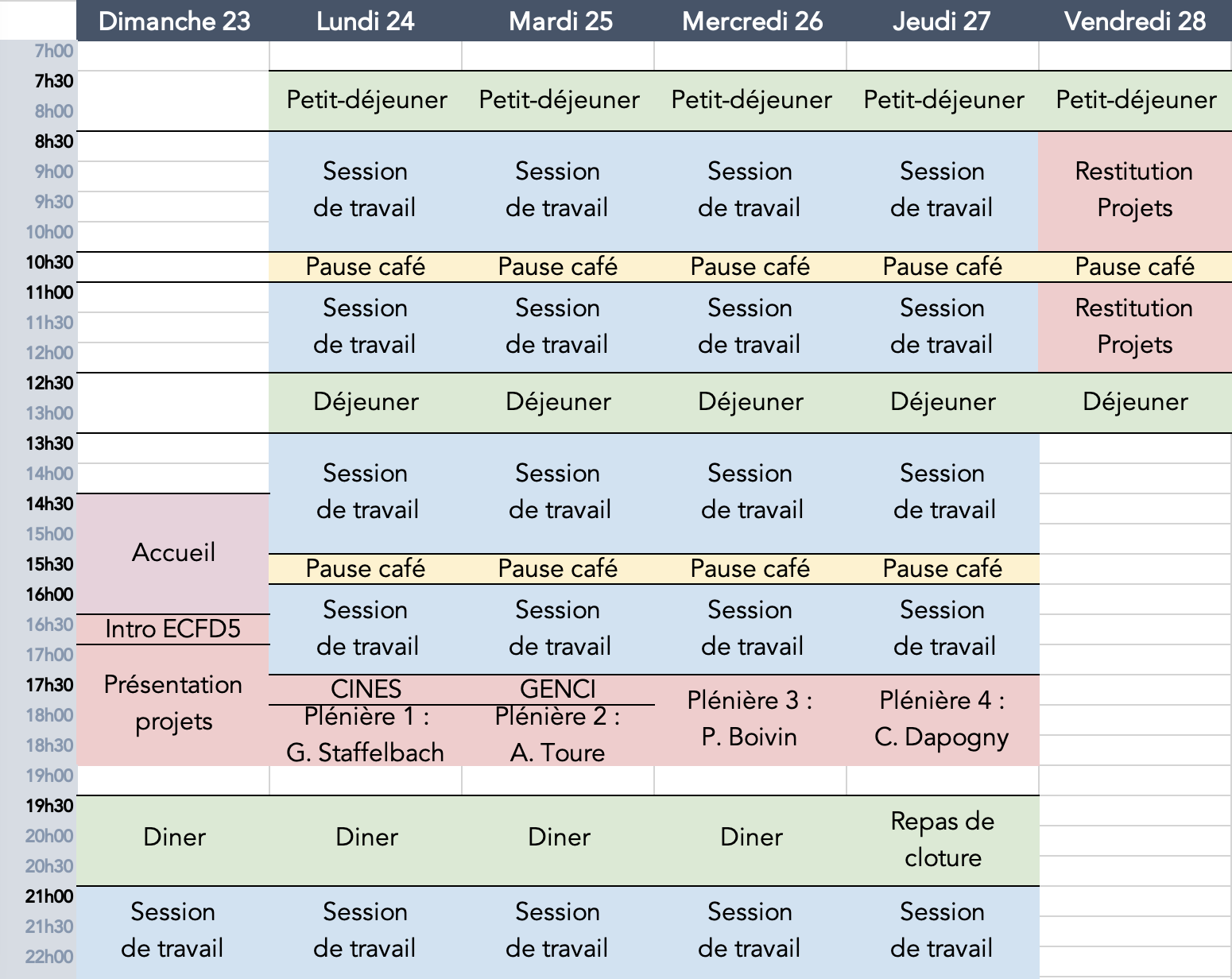 Thematics / Mini-workshops
These mini-workshops may change and cover more or less topics. This page will be adapted according to your feedback.
Combustion - K. Bioche, VUB
Static and dynamic mesh adaptation - G. Balarac, LEGI
Multi-phase flows - M. Cailler, SAFRAN TECH
Numerics - G. Lartigue, CORIA
Turbulent flows - P. Bénard, CORIA
Compressible - L. Bricteux, UMONS
User experience - J. Leparoux, SAFRAN TECH
Hackathon - G. Staffelbach, CERFACS